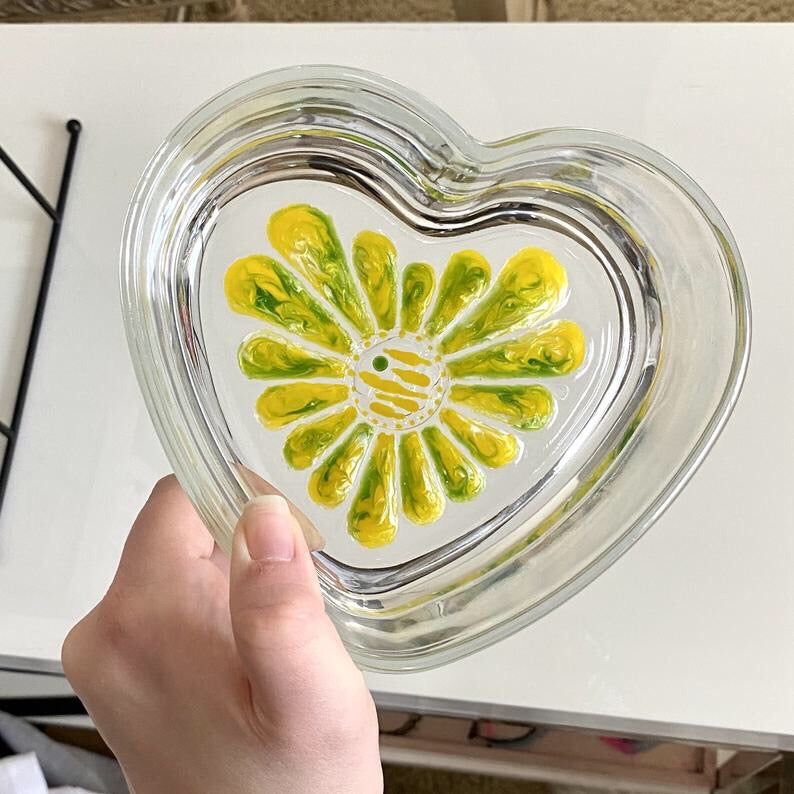 Yellow + Green Shimmer Stained Glass Gift Idea. Christmas Dish, Trinket Dish, Key Dish, Candy Dish, Sun Catcher
Hand Painted Stained Glass Heart

Handmade Art ~ Beautiful Dish / Tray/ Display!

Stands on its side to be in your windowsill, a door display, display at your bar, or can be used as a purposeful dish to hold your precious treasures!
COLORS: Yellow and green shimmer. The colors will look different depending on light and the color of the surface so if you don't like it somewhere, try it somewhere else with another color background
Measures 5 5/8" L x 6" W x 2 1/8" T
★ Some of it's uses:
- treats / candies (it's food safe)
- hair ties
- bathbombs
- hair accessories / hair clips
- makeup
- keys
- lighters
- ash tray
- nail polish
- earrings
- suncatcher
- snacks
- bracelets / jewelry

★ Makes an amazing gift for yourself or for your friends/family. Perfect eye catcher that really will have everyone wondering where you got such a beautiful thing from! <3 We've sold these in person for the last couple months and have had returning customers for more 💕 They are even more beautiful in person, especially if you place in an area of your home that catches natural sunlight daily ☀️

☆ Alluring decor that WILL catch your eye and your guests attention to the beauty of your home. This glass dish has many uses, whatever you desire! It is food safe so can be a candy dish at the entry way of your home, it can hold your bath bombs to display on your bathroom counter or bathtub to inspire you to a romantic bath, it can hold hair accessories, nail polish, clips, hair tie holder, jewelry holder (careful with necklaces so they don't tangle), key holder/organizer at the front door, etc. It can even be a glamorous ash tray!

★ Takes one full year to cure, will be packaged extra carefully! Just make sure not to scrub, poke, or have any paper against the surface of the paint. On any counter is OKAY! The edge of the heart dips in underneath the dish so it will not ruin the art unless you wrap something tightly against it or scrape it. It will not stick to your counter, I promise!

☆ This is an extremely unique, delicate, and special item. We have many colors to choose from! Check our shop for more (:

★ HAND WASH ONLY! Do NOT put this item in your dishwasher. It will ruin the beautiful product. Please don't scrub the paint, just gently wipe with a damp cloth if you feel it is dirty 🥰❤️ You can scrub the inside of the dish no worries! The paint is not inside the dish, it is underneath.

☆ Please understand that in person the colors may be a little different due to screen colors not always being the same, and photos not always capturing the color as perfectly, but regardless, it is so beautiful! Please see my feedback to see how much I care about my shoppers ❤️✨

⭐️⭐️⭐️⭐️⭐️⭐️⭐️⭐️⭐️⭐️

HAVE A GREAT WEEK - YOU DESERVE TO!