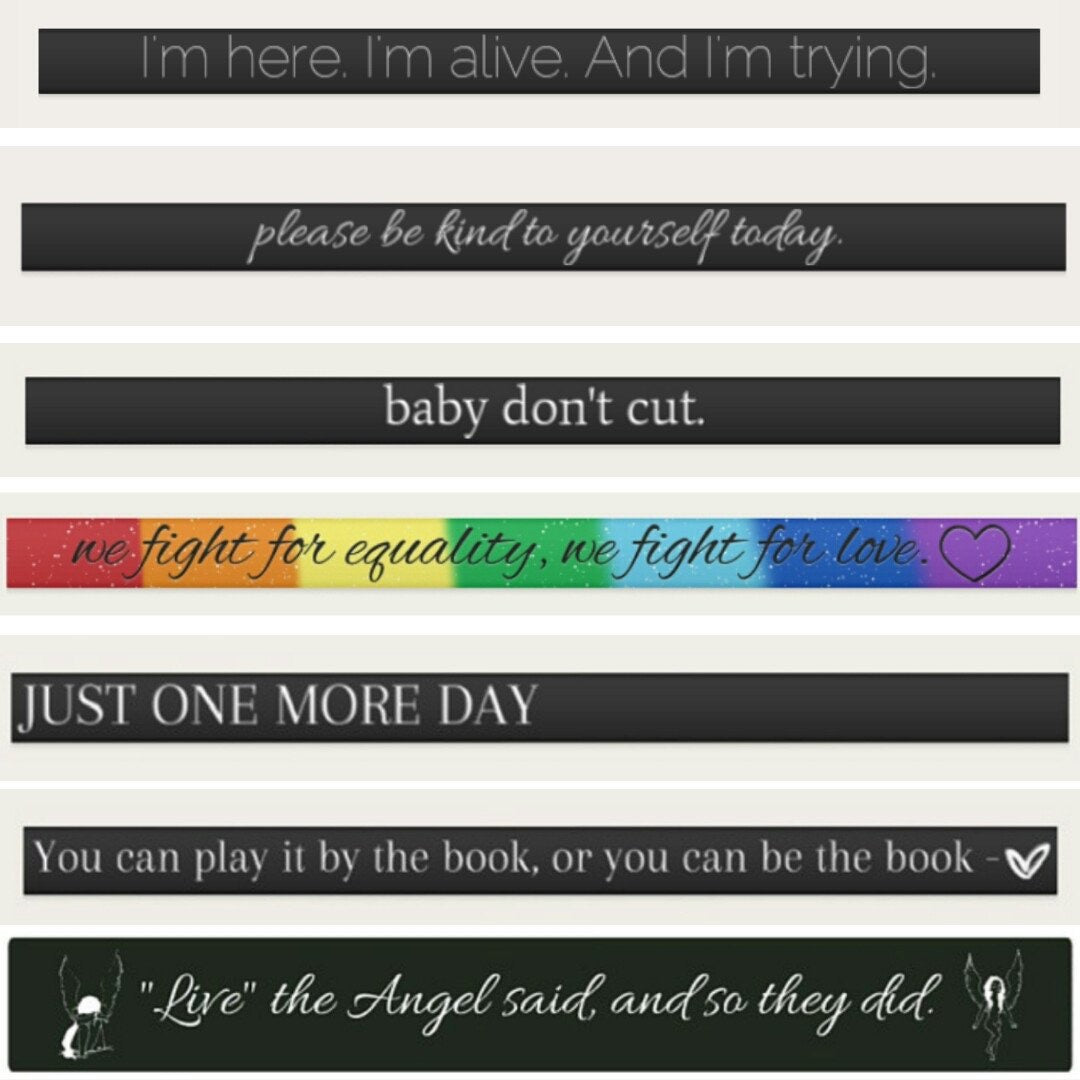 3 Mix + Match Bracelets For Self Love And Depression // Recovery
***READ BEFORE PURCHASE***
^I AM COMPLETELY SOLD OUT OF THE (PLEASE BE KIND TO YOURSELF TODAY AND BABY DON'T CUT BRACELET.) IF YOU ORDER, YOU CAN SUBSTITUTE FOR 2 OTHER BRACELETS FROM THE OTHER 8 CHOICES AVAILABLE. BY ORDERING YOU CONFIRM YOU HAVE READ ALL THE INFO IN MY LISTING, THANK YOU ! :)

Mix & match bracelet bundle!
* Save on shipping and bulk pricing •
$15 for 3 wristbands // original price $6 if individually purchased
Pick 3 bracelets, exactly as you want! Double some up for a friend, get one for you and your 2 besties to all have matching friendship bracelets, get multiples of the ones you love, or get all different ones! Completely up to you :) listed below are all the bracelets I have available, you can pick 3 from the list 💗
You will also receive a free hand written note by myself. These are exclusive and never repeated, EVER. In the photos I have shown some examples of notes I've written in the past. 
Please send your me your choice of which bracelets you're picking via a message with your order. I will attempt to message you but if I don't hear back by the scheduled ship date, I will try to pick the best ones at random for you ⭐️
Each bracelet represents a different positive outlook, and you will receive three (3) wristbands of your choice ♥
1. "Live" the Angel said, and so they did.
-represents fighting against eating disorders/suicidal tendencies
2. You can play it by the book, or you can be the book - ♥
-represents being yourself because you're lovely just the way you are
3. JUST ONE MORE DAY
-represents never giving up, try and always get through the day no matter what.
4. baby don't cut. (SOLD OUT RIGHT NOW, SORRY!)
-represents not cutting/self-harming
5. please be kind to yourself today. (SOLD OUT RIGHT NOW, SORRY!)
-represents always loving yourself, even when it's hard
*(sold out on this bracelet right now sorry!)*
6. I'm here. I'm alive. And I'm trying.
-represents that sometimes we just need to breathe to get through the day, and that's enough, because you ARE enough.
7. we fight for equality, we for love
-represents equality for EVERYONE. We all deserve love, and support. We all need someone. We are EQUAL. Let's live as a team.
8. Stay Strong.♡
-represents that you are precious, loved, and should never hurt yourself intentionally. Self harm or suicide is never worth more than fixing the pain that's building up on the inside. Anything can get better!
9. you are beautiful.
-represents that you are beautiful no matter what. You should always feel important, and know that you are beautiful - both physically and with your personality. When you look in the mirror, do not find hate; learn to know love instead.
10. MY ADDICTION IS NOT MY REFLECTION, YOU DON'T KNOW MY STORY.
-represents ANY addiction you may be fighting, regardless of what it is, it does NOT define YOU.
Color - black & one rainbow (see pictures) ; Color on the rainbow bracelet may vary slighty due to the rainbow silicone being handpoured during production, but it will still have red, orange, yellow, green, blue, indigo, violet, and of course the glitter ♥
Font - white & one black (see pictures)
Material - 100% silicone
All bracelets are 7.5" inches around
All bracelets are designed by me, and you won't find them from anyone else!
Everyone deserves to feel important, because everyone is in their own way. YOU ARE LOVED. ♥
SOLD OUT OF "PLEASE BE KIND TO YOURSELF TODAY."